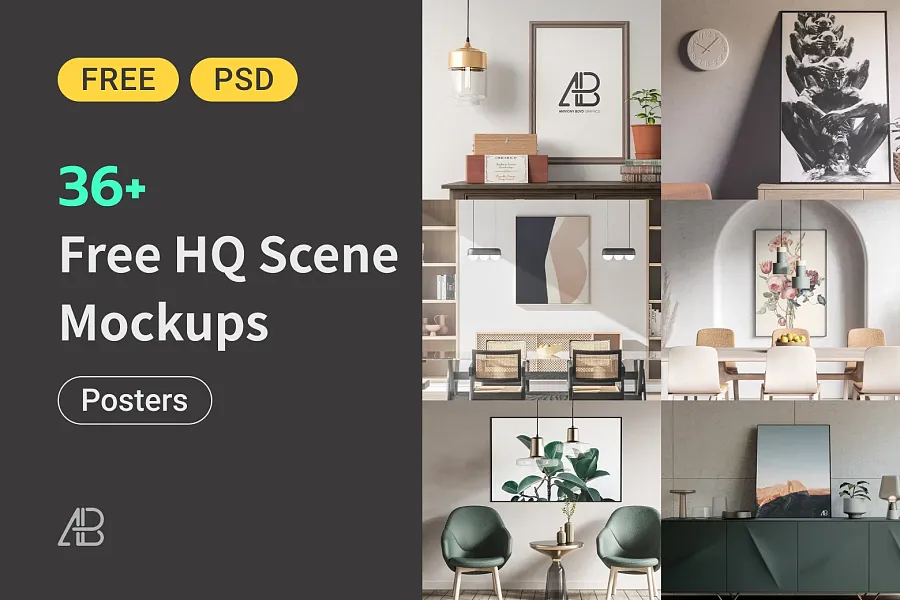 Display Your Poster Designs in Stunning Detail with Free PSD Mockups
Transform your poster designs into visual masterpieces with this impressive collection of mockups! Featuring nearly 40 mockups in various styles, including scene options that showcase posters in the bedroom, and living room, you'll have everything you need to present your work in the best possible light.
Effortless Mockups for Graphic Design Professionals
Don't break the bank on a professional photographer when you can effortlessly display your work with these top-quality mockups. Whether you're new to using mockups or a seasoned pro, the easy-to-follow 'Help Documentation' that accompanies your downloaded file will ensure that you can use these mockups with ease in Adobe Photoshop.
Exceptional Mockups by Anthony Boyd Graphics
Elevate your design game with the remarkable mockups from Anthony Boyd Graphics, a renowned creative graphic design and identity brand studio based in the United States. Their broad collection of mockups features various poster and frame styles to meet all of your design needs, including free PSD mockups and more.
Unleash Your Creativity with Free Resources
Best of all, most of the resources are free to download and use for personal purposes, with some even allowing commercial use. Be sure to check the original website's license before making any alterations, modifications, or attributions to any files.
Unleash Your Creative Potential and Make a Lasting Impression
What are you waiting for? Discover the potential of your designs and impress your clients with the stunning mockups from this collection today!
Are you ready to bring your designs to life? Don't miss out on Realstudio24's awe-inspiring mockup collections. Take your designs to the next level with my impressive array of mockups!