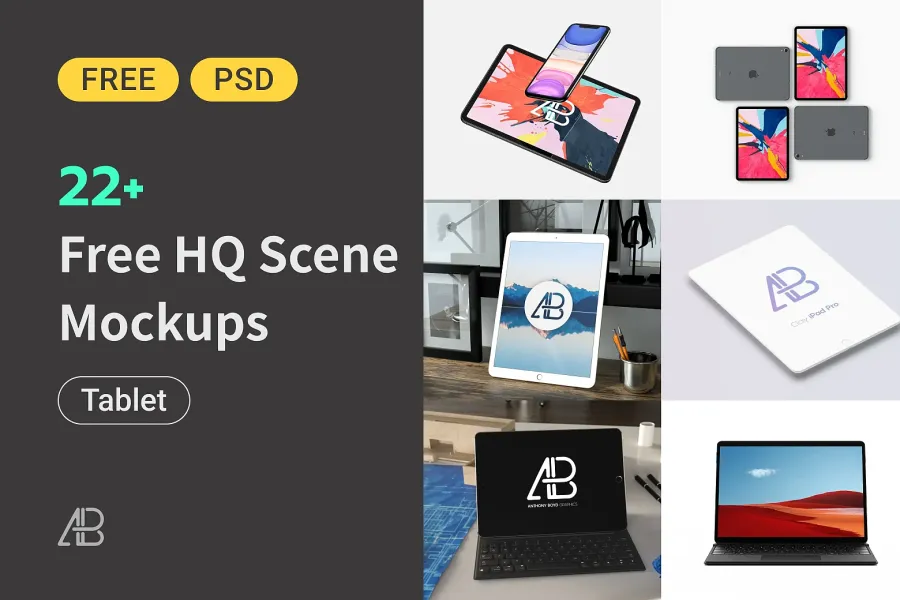 From Tablets to iPad Pro: The Versatile Tablet Mockup Collection by Anthony Boyd
Looking to add some pizzazz to your UI designs and showcase them in a visually stunning way? Look no further than Anthony Boyd's remarkable collection of free high-quality mockups, including tablet mockups, iPad mockups, iPad Pro mockups, and other apple device mockups.
Meet Anthony Boyd & His Apple Device Mockup Collection
Featuring an array of unique pieces, from Microsoft tablets to iPad in various perspectives, Boyd's collection has everything you need to create stunning graphics. His mockups are not only aesthetically pleasing but also completely free for personal and even some commercial use, including the free tablet mockup collection.
Stunning UI Designs Made Easy with High-Quality Tablet Mockups
All of his mockups are in PSD format, so it's crucial to ensure that you have Photoshop installed on your computer before diving in. These mockups are powerful tools that can elevate your UI designs and take your business to the next level. With his help, you can create UI designs that are not only visually appealing but also practical and efficient.
Take Your Mobile Design to the Next Level
Look no further! Browse Anthony Boyd's free tablet mockup collection today and start taking your mobile designs to new heights!