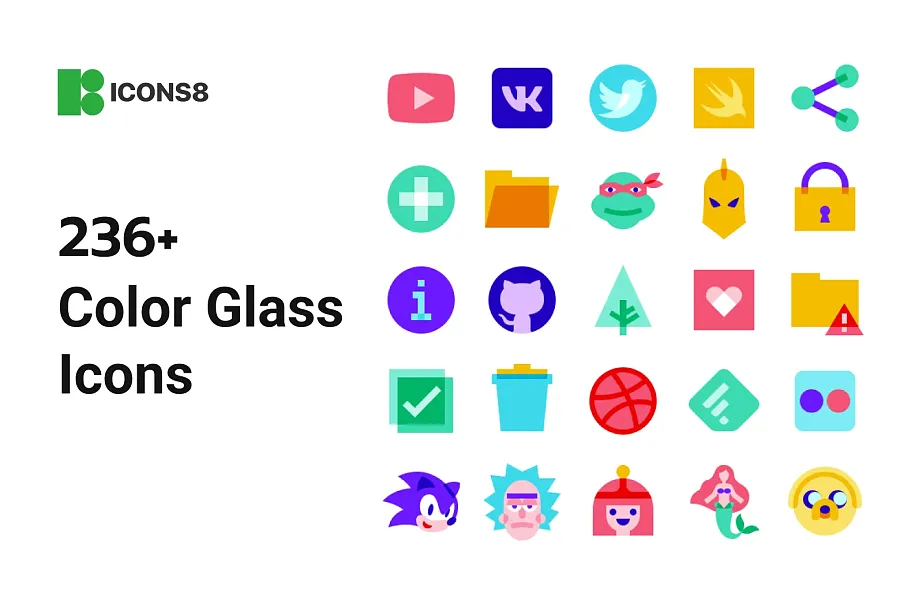 Over 200 Color Glass Icons to Choose From
Add a pop of color to your next presentation, social media captions, email newsletters, or marketing materials with our vast collection of colorful icons. Designed to catch the eye, these stunning icons will elevate your project and make it stand out. Whether viewed on desktop or mobile screens, these pixel-perfect icons and symbols are sure to look great.
What Is Color Glass Design Style?
Icons8's curated Color Glass icons are a flat icon set featuring bright colors and a decorative style. By using these icons, you can benefit from their unique and modern design. Ideal for website and graphic design projects, these icons, including cute color icons, emoji icons, doodle icons, and more, will help you stand out from the competition with their vibrant colors.
Usage Instructions For Gem-like Color Glass Icons
This Color Glass icon pack comes in PNG and SVG vector formats and is available for free download and editing, including for commercial use with proper link attribution. Please check Icons8's regulations before using and distributing the icons.
Get Your Color Glass Icons Today
Don't wait, add a touch of color to your project now with our Color Glass Icons. Start using them today and see the difference they can make!