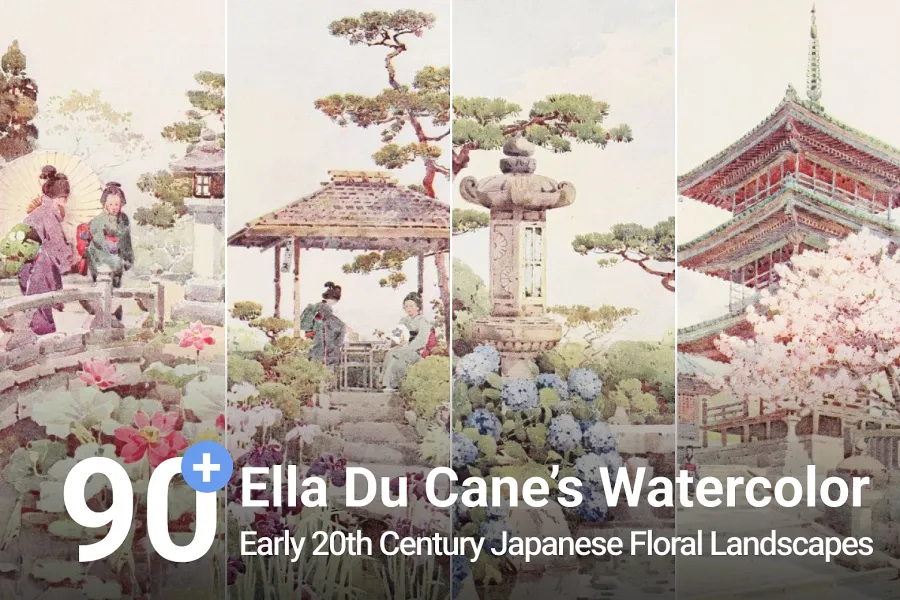 Ella Du Cane is an accomplished watercolor artist renowned for her elegant works, particularly her skill in capturing exotic landscapes. Ella Du Cane and her sister, Florence Du Cane, possessed enviable backgrounds during their time and achieved remarkable success throughout their lives. It's worth noting that they were born at the end of the 19th century and thrived in the early 20th century, a remarkable feat for women of their era. However, for various reasons, Ella Du Cane may not be as widely recognized today as famous modern masters like Van Gogh, Monet, Cézanne, or Matisse. In the annals of art history, artists who could sustain themselves through the art of painting and explore the world without worry about next meals were indeed a rarity.
Exploring Exotic Landscapes: Watercolor Paintings Adored by Queen Victoria
Ella Du Cane was born in 1874 and grew up in the English countryside. Her father was a British diplomat stationed in Australia before receiving a knighthood and returning to the UK to hold high-ranking government positions. Her mother was the daughter of a renowned portrait artist in London. It is evident that Ella Du Cane and her sister received a quality education and artistic upbringing from a young age. Despite their affluent upbringing, their opportunity to embark on a world tour came from their talent in the arts and the admiration of Queen Victoria of the United Kingdom. The Queen was deeply impressed by Ella Du Cane's work at an art exhibition, leading to her ordering 26 of Ella's paintings within a short span of three years. This appreciation led Ella Du Cane and her sister on a journey around the world, resulting in the remarkable body of work that we admire today.
Preserving Japan's Century-Old Beauty with Ella Du Cane's Delicate Watercolors
According to existing records, Ella Du Cane embarked on journeys to and depicted landscapes in China, Japan, Egypt, the Canary Islands of Spain, and the Madeira Islands of Portugal. Ella Du Cane excelled in capturing and faithfully reproducing intricate landscapes and colors. Her preserved works provide modern audiences with a glimpse into human life and landscapes from a century ago. Notably, the collaborative creation "Flowers and Gardens of Japan," featuring Ella's watercolor art and Florence's descriptive writing, evokes a serene and comforting atmosphere when portraying Japan's floral landscapes of the time. Within this Eaglepack collection, you'll also find picturesque garden scenes from Madeira Island and collaborative illustrations with another writer, focusing on the everyday life of the Japanese people during that era. If you share an interest in Ella Du Cane's artistry or the watercolor style, waste no time in downloading and preserving these precious artworks. They will transport you through time, allowing you to explore the beautiful landscapes of the early 20th century.