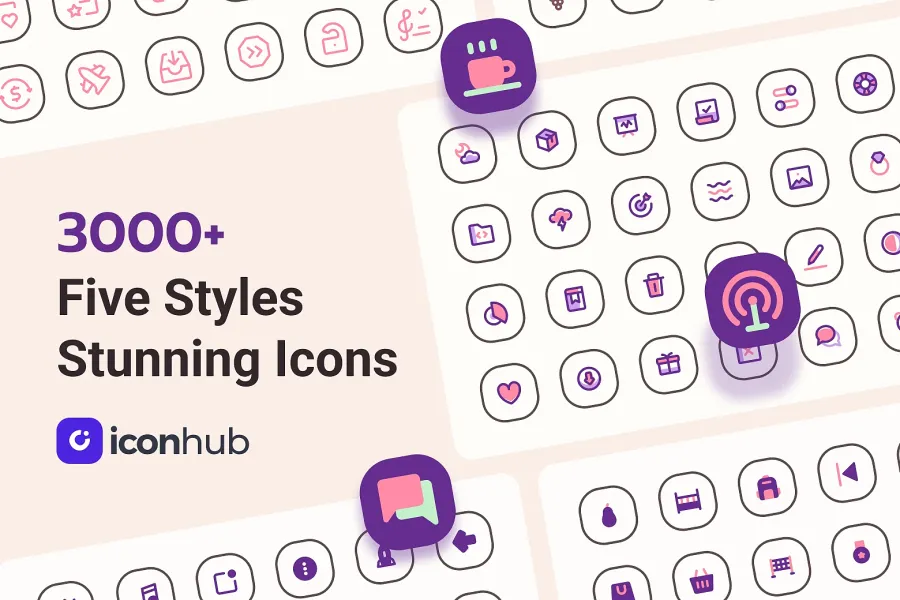 Unleash Your Creativity with Iconhub's Diverse Collection
Iconhub, the brainchild of One Week Wonders and Javan Cipta Solusi, offers an extensive collection of over 3000 meticulously crafted icons in five distinct styles: Line, Glyph, Flat color, Flat Line, and Multi color. The Glyph and Multi color styles alone boast an impressive 300+ icons, providing you with limitless creative possibilities.

Simplify Your Design Projects with Iconhub
Designing websites, creating marketing materials, or crafting app interfaces becomes a breeze with Iconhub. With a simple click and preview feature, you can easily download high-quality icons and seamlessly incorporate them into your projects. These editable and customizable icons are perfect for commercial use, allowing you to create captivating designs effortlessly.
Unlock Endless Potential for Your Projects
Iconhub's icons are not only practical but also diverse, catering to various design needs. The best part? You can use them freely for commercial projects, with a limit of 20 icons per project. For personal or non-profit endeavors, enjoy the freedom of up to 50 icons per project, and no restrictions on the number of projects you create. Don't miss this opportunity to elevate your designs – download Eaglepack to explore Iconhub now and unleash your creativity!
Ready to Take Your Designs to New Heights? Download Eaglepack Today!
Experience the full potential of Iconhub by downloading Eaglepack – your gateway to the world of captivating icons. Elevate your design projects with ease and make a lasting impression. Click the download link to get started and embark on a journey of seamless creativity!