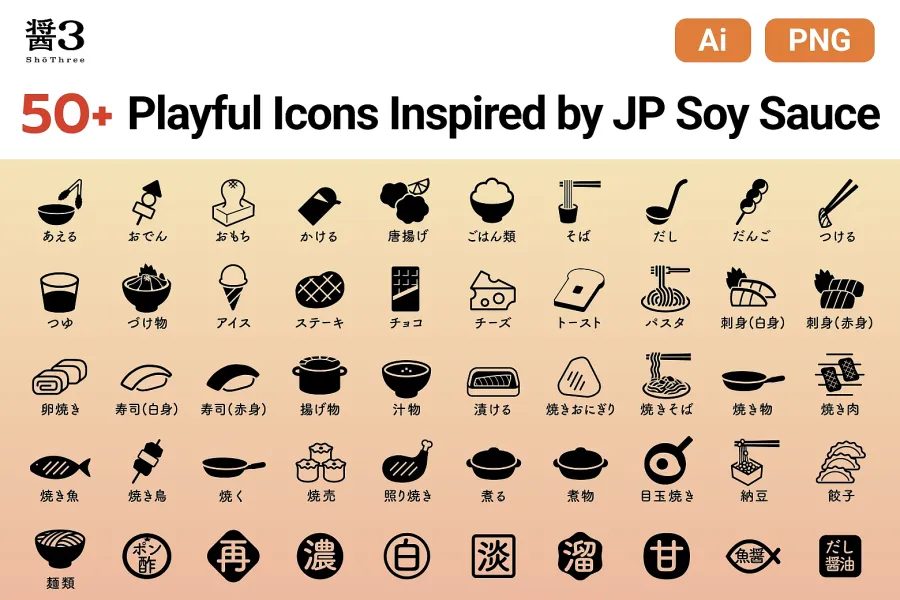 Elevating Tradition: The Japanese Food Icon
Discover the captivating realm of 醤3 (ショウスリー/ ShoThree), a dynamic collective ignited by Kazunobu Koizumi and group members' passion for Japanese soy sauce. Since its inception in 2019, this group has blossomed into a culinary movement. Unveiling its ingenious project on the renowned Japanese crowdfunding platform Makuake in 2021, 醤3 beckons you to delve into the heart of soy sauce, celebrating its diverse nuances across Japan. A sensory journey awaits, harmonizing flavors to create an exquisite symphony on your taste buds.
Visual Symphony: The Japanese Symbols for Food
Infused with a fervent dedication to aesthetics, 醤3 intertwines visual allure with culinary reverence. Adorned with evocative imagery, icons pulsating with life await your embrace on the official website. These free food icons, meticulously crafted, extend an invitation for you to delve into the soul of soy sauce. Be entranced by the four enchanting categories: How to Harness Soy Sauce's Magic, A Tapestry of Soy Sauce Varieties, Dance of Flavors in Perfect Pairings, and Artistry in Culinary Creations. Ingeniously depicted in smooth strokes, these icons encapsulate the essence of Japanese cuisine in a charming and accessible manner, awakening your culinary creativity.
Embark on Your Flavorful Odyssey: Download the Eaglepack Today!
Elevate your culinary experience with the 醤3 and Eaglepack - a treasure trove of artistic icons and profound knowledge. From the Japanese food icon to the alluring Japanese symbol for food, every element beckons you to dive into the world of soy sauce. The journey unfolds with a mere click, as you unveil the secrets of soy sauce's versatility. Don't miss this chance to infuse your dishes and designs with a touch of Japan. Download the Eaglepack now, and let your creativity soar!