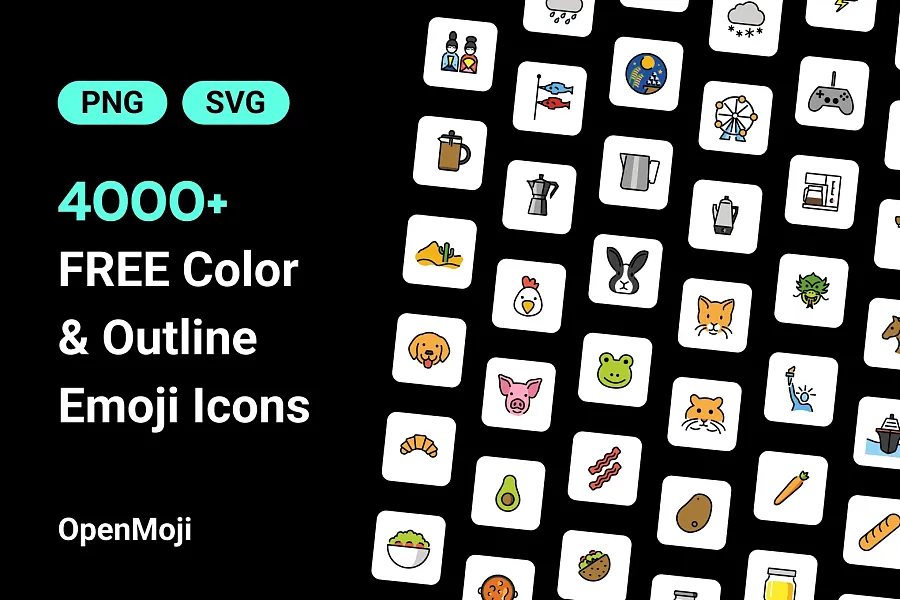 OpenMoji: The Perfect Solution for Free Emojis and Emoji Icons
Ever heard of OpenMoji? They've got an awesome collection of over 4000 emoji icons covering all sorts of themes like emotions, animals, people, food, travel places, and more. The coolest part? Today, Eaglepack is proud to present a curated selection of free icons sourced directly from OpenMoji. This will surely bring together the expressive power of OpenMoji's emoji library with the convenience and versatility of Eaglepack.
Customize and Personalize with OpenMoji's Emoji Icon Library
By downloading Eaglepack, you gain access to a vast array of high-quality icons, including these 4000 popular emoji icons from OpenMoji. These icons are totally open-source, which means you can freely use, modify, and share these emoji icons. They come in vector SVG format, along with PNG versions, making it easy for you to copy and paste emojis wherever you need them. And guess what? You can choose between colored or black-and-white outlined variations to customize them however you like. Trust me, these emojis are super detailed and visually stunning. How rad is that?
Download Eaglepack to Unleash the Creative Potential that Lies Within the OpenMoji Emojis! [Eaglepack Preview]
Don't miss out on this incredible opportunity to enhance your designs with the vibrant and engaging emojis from OpenMoji. With Eaglepack, you'll have access to a diverse emoji library, including a wide range of emoji clipart and PNG versions of the icons. Download Eaglepack today and embark on a journey of creativity and visual expression!