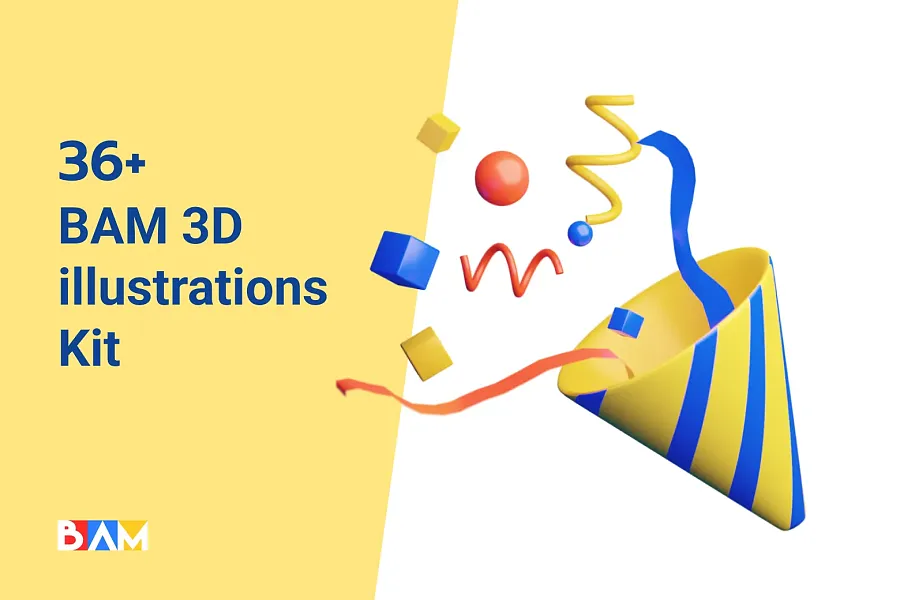 Over 30 BAM 3D Illustrations to Choose From
Add a pop of color to your next presentation, social media captions, email newsletters, or marketing materials with our vast collection of lovely illustrations. Designed to catch the eye, these stunning illustrations will elevate your UI design project and make it stand out!
What Is the BAM Free 3D Illustration Kit?
The BAM Free 3D Illustration Kit is a library of 3D illustrations inspired by the lovely 3D works by Things and Saly. These illustrations are ideal for website and graphic design projects, and are sure to bring a modern and colorful touch to your UI and presentations.
Usage Instructions For BAM 3D Illustration Pack
This BAM 3D Illustration Pack is available in PNG formats and is free for both commercial and personal use. However, we always recommend double-checking the license before editing, modifying, or attributing any resources from the BAM 3D illustration pack for UI.
Get Your Free 3D Illustration Kit Today
Don't wait! Add a touch of color to your project now with our 3D illustrations. Start using them today and see the difference they can make! And if you're looking for even more design resources, be sure to check out the free design resources from Eagle Community, which features stunning 3D icons and free 3D avatars for all your design needs.