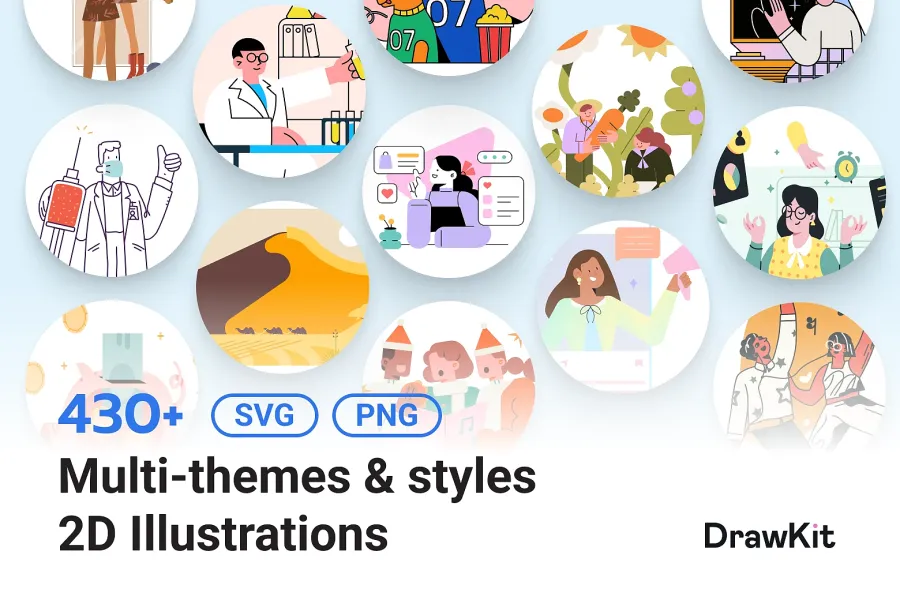 Unleash Your Creative Vision with 430+ DrawKit 2D Illustrations
Limitless Creativity with DrawKit Illustrations
Explore 430+ captivating illustrations across 106 themes - from pets and environments to music, health, and even distinctive landscapes. Whether you're crafting a booklet about pets or need some contextually relevant images to embellish your website, this illustration bundle has you covered. You can use these illustrations in your commercial projects without worrying about copyright issues.
Versatile Formats for Design Freedom
These illustration bundles provide both PNG and SVG files. If you require high-quality vector images for your website that you can easily adjust in terms of color and size, SVG files are at your disposal to meet your design needs. Alternatively, if you're in need of a quick image, PNG files are also readily available.
Fuel Creativity - Master Design
In addition to serving as a resource, these illustrations can also serve as inspiration for style and color. Each theme comes with a different artistic style, allowing you to observe various design aesthetics and color schemes. This is a valuable resource for anyone looking to enhance their design skills.
Experience the Magic - Download Eaglepack!
Elevate your designs with DrawKit by downloading the Eaglepack. Dive into a realm of artistic expression and transform ideas into captivating visuals today!