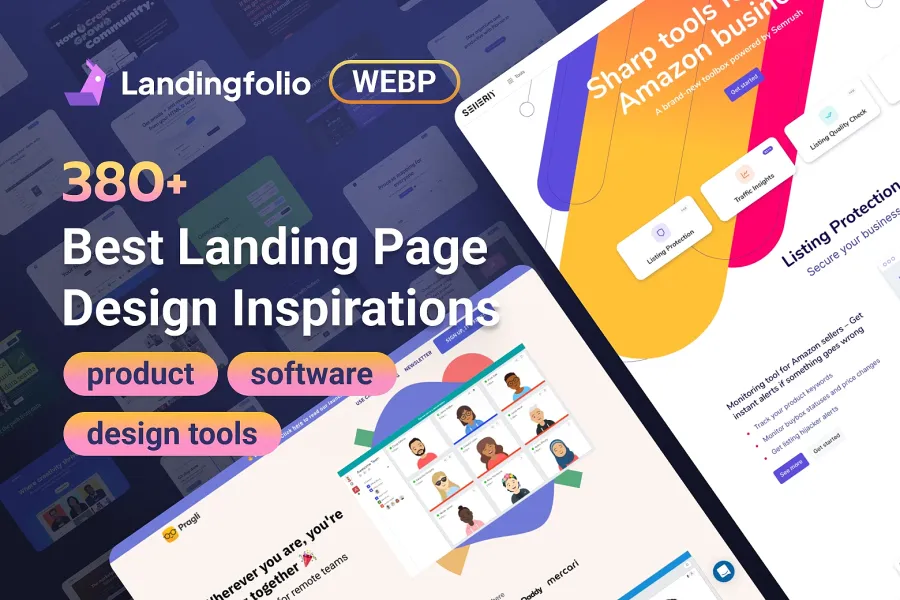 Following Me for More Curated High-Quality UI Design Inspiration Examples
In my last post, I introduced Lapa Ninja and curated a collection of landing page design inspiration primarily focused on productivity. However, now taking you a step further to introduce another astounding website that can help you explore a treasure trove of web design and landing page inspiration: Landingfolio. I'll also be sharing landing page inspirations categorized under 'Product,' 'Software,' and 'Design Tools' that I've collected on Landingfolio!

If you missed any of the valuable resources I shared in my previous submissions, check these link to visit and download them!
The Three Design Tips of Designing Landing Pages
In last sharing, I mentioned the five crucial elements to consider when designing landing pages. These include a clean and clear design, a compelling Call to Action (CTA), high-quality images and visual assets, captivating headlines and descriptive text, and endorsements from partnerships, celebrities, or user testimonials. However, in addition to these elements, there are three design tips to make your landing page even more appealing:

Responsive Design: Ensuring Seamless Functionality Across Devices:
Ensure that your landing page displays and functions correctly on various devices, such as desktops, tablets, and mobile phones. Responsive design guarantees a pleasant user experience, regardless of the device visitors are using.


Consistent Brand Style and Visual Design: Strengthening Brand Recognition:
Ensure that your landing page aligns with your brand's style, including colors, fonts, and styles. This helps maintain brand recognizability and deepens the user's impression of your brand.


Speeding Up Page Loading: Optimizing Performance for Enhanced User Experience:
Optimize images and multimedia content to ensure that your landing page loads quickly. Minimize pop-up ads and excessive animation effects, as these factors can impact loading times.

Explore Landingfolio: A Treasure Trove of Web Design and Landing Page Inspiration
Landingfolio currently houses a collection of over 930 landing page inspirations and examples across various categories, including pricing pages, about pages, login pages, signup pages, and not-found pages. You can swiftly browse through current design trends and page elements while referencing marketing strategies from different products and brands. This time, we've curated three categories: products, software, and design tools, comprising a total of over 380 full-page screenshots of landing pages. These resources are incredibly beneficial for interface design, marketing, and product management, making them a must-have treasure for every web designer!