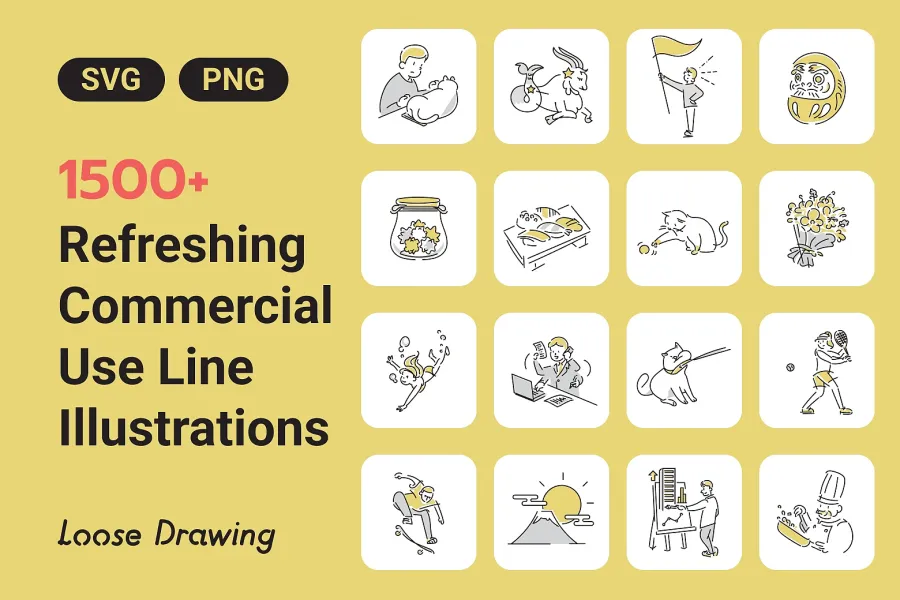 Free Japanese Style Illustrations from Loose Drawing – Choose from 1500+ Refreshing Designs
Discover over 1500 free Japanese-style illustrations on Loose Drawing, a design resource website from Japan. These free illustrations feature simple lines and basic color blocks, perfect for creating a light and airy Japanese design aesthetic. Use them for business presentations, documents, or website illustrations, with various themes, characters, and appearances to suit your needs.
Free for Commercial Use – Explore a Wide Range of Themes
Loose Drawing offers a diverse range of illustration themes, including business, emotions, people, education, nature, activities, and more. These illustrations are available for commercial use without the need for attribution or membership. You can even preview the illustrations with their online color adjustment feature. Remember, direct selling of the artwork is prohibited, but editing and remixing are allowed.
Eaglepack: Collect 1500+ Japanese Style Illustrations in One Go
If you love the fresh and natural Japanese design style, don't miss out on this collection of free and practical resources. Download Eaglepack now to get all these illustrations in one convenient package, perfect for your next project's visual needs. For those interested in Loose Drawing's style, they also offer custom commercial services or direct access to SVG files. Happy designing!
Download Eaglepack now and enhance your projects with a touch of refreshing Japanese art!