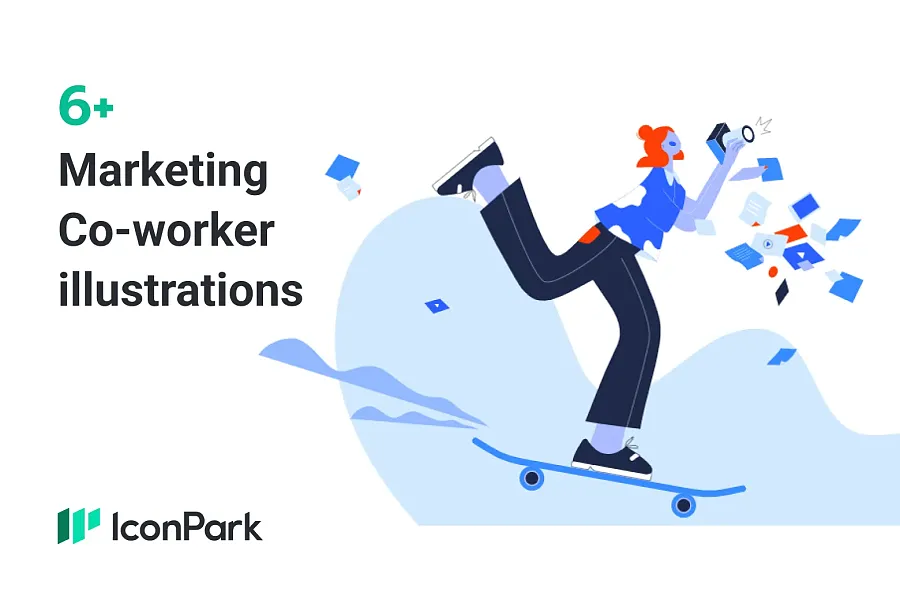 Marketing and Work Scenes: A Set of Illustrations That Will Resonate with You
Are you or your co-worker in the marketing industry? Check out this set of free illustrations featuring work scenes that are sure to resonate with you! From brainstorming sessions to client meetings, these illustrations capture the daily grind of the marketing world. And with the option to download in both PNG and SVG formats, it's easy to incorporate them into your next project.
If you're feeling down about the blue color scheme, don't worry! You can easily adjust the colors to fit your needs after downloading.
Introducing IconPark: An Open-Source Icon Library from ByteDance
Looking for more design resources? Check out IconPark, an icon library from ByteDance. Since September 2020, this library has been open source, offering over 2,000 icons and 11 sets of system illustrations. ByteDance is an internet tech company from China, with their most famous product being TikTok. They also offer a range of other mobile applications.
Many of the vectors and resources on IconPark are free for personal use, and some even allow for commercial use. However, it's important to note that not all files have the necessary permissions for commercial use. Before making any edits, modifications, or attributions, be sure to confirm the license on the original website.
Free Illustrations for Work Situations and People
So whether you're in the marketing industry or just looking for some design inspiration, these resources are sure to impress. Download them today and take your projects to the next level!