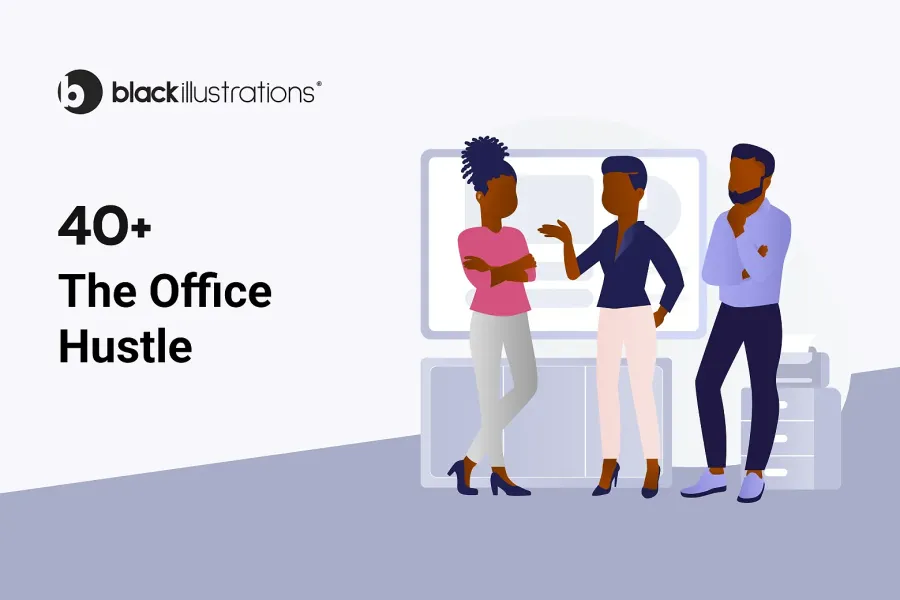 Welcome to this free illustration pack featuring a collection of office illustrations that are perfect for adding some personality and creativity to your next project! These illustrations are designed with a modern, stylish look that is sure to grab the attention of your audience.
A Variety of Themes of Office Illustration for Different Needs
Whether you're looking for a fun and whimsical illustration to add some character to your website or social media channels, or you need a professional-looking illustration for a business presentation or marketing materials, this illustration set has got you covered. The collection includes a range of different office-related themes, from the daily hustle and bustle of a busy office to more specific scenarios like business meetings, presentations, and teamwork.
Diversity and Inclusivity with Black People Office Illustration Set
This black people office illustration set features a diverse range of characters that are perfect for adding some much-needed representation and inclusivity to your designs. With a variety of skin tones and hairstyles, the illustrations are designed to reflect the diversity of the modern workplace.
Free Downloads and Customization Options
And the best part? The office illustrations are available for free! Simply download the Black Illustration Pack and get started today. They also offer individual businessman and businesswoman illustrations as well as people working illustrations that can be edited for more customization options.
In conclusion, if you're looking for high-quality, eye-catching office illustrations that are sure to make an impact, look no further than this collection. With a variety of options to choose from and the added bonus of free downloads, there's no reason not to give these office illustrations a try. Add some flair to your next project and impress your audience with these amazing illustrations!