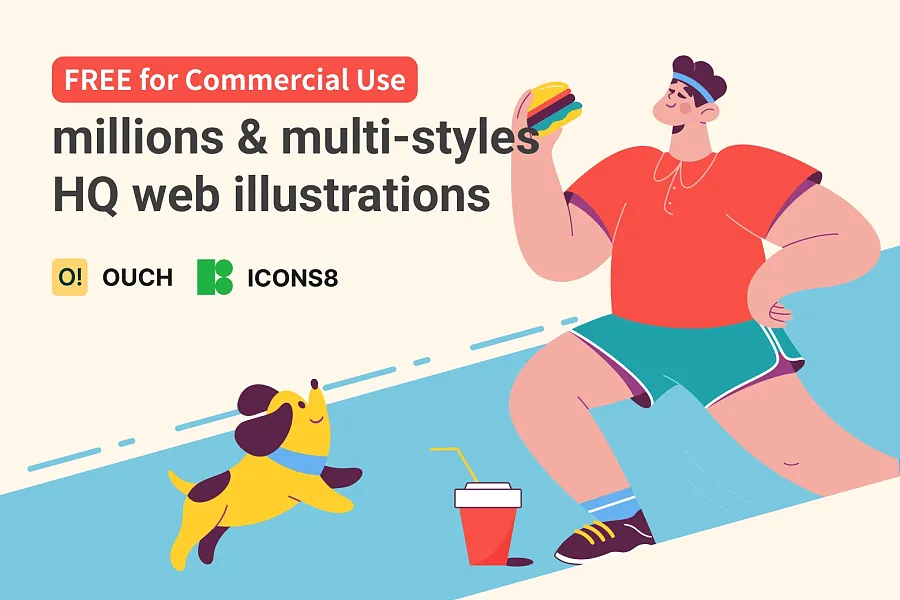 If you are looking to add some color and flair to your presentations or projects, Sammy Style People Illustrations might be just what you need. Sammy's style is sure to bring life to even the most mundane topics, from business to hobbies, vacation, and pets. This high-quality illustration package comes in two formats, PNG and SVG, and while the number of illustrations is not huge, they are definitely worth collecting.
From OUCH! to Icons8: A Treasure Trove of Web Illustrations and Icons
In addition to Sammy Stye People Illustrations featuring happy people, the OUCH! website offers a wide range of fantastic illustrations and icons created by the talented Icons8 team. They provide millions of multi-style web illustrations and icons, available for free personal and commercial use. Just be sure to check the copyright guidelines before using any free illustrations for commercial purposes.
For those looking for even higher quality or editable formats, Icons8 offers a subscription service that is both user-friendly and convenient, with additional plug-ins available. The OUCH! website is a treasure trove of visual inspiration for web designers, UI/UX designers, and anyone looking to illustrate their ideas.
Conclusion: Join the Happy People Club! [Eaglepack Preview]
Adding illustrations to your work can help make it more engaging and memorable. Whether you are looking for colorful illustrations for your presentations or icons for your website, OUCH! and Icons8 have got you covered. With their high-quality and user-friendly services, you can easily create stunning visuals to bring your ideas to life. So what are you waiting for? Download this Eaglepack and start illustrating your ideas today!